Civic Flag for Vancouver,
British Columbia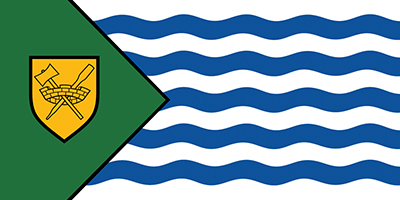 The flag of the City of Vancouver was adopted by Vancouver City Council on May 17, 1983. The flag's green chevron represents the land on which Vancouver is built and the many evergreen trees in the city. The gold shield on the chevron is the City of Vancouver's badge, which depicts a mural crown with crossed axe and paddle.
The crown signifies Vancouver's status as an incorporated city, while the axe and paddle stand for its traditional industries of logging and fishing. The alternating blue and white waves on the flag symbolize the Pacific Ocean and rivers surrounding the city, which play an integral role in Vancouver's growth and prosperity.